Dear Friends,
It is our pleasure to invite you to the 2017 Pennsylvania Historical Association Annual Meeting to be held on October 12-14 at the Radisson Lackawanna Station in Scranton, PA. Scranton is a city rich in local history; offering visitors a diverse selection of tourism options including architectural walking tours of the city's downtown, a visit to the archeological remnants of the Scranton's Historic Iron Furnaces, a train excursion from Steamtown National Historic Site, a trolley ride through the old Laurel Line tunnel and a chance to explore an authentic Anthracite Coal Mine.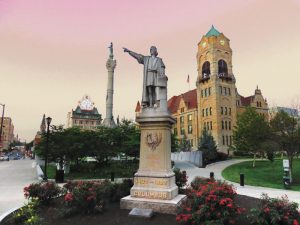 The Program Committee has put together a fascinating lineup of speakers, panels, plenaries, poster sessions, and even passes for the many local historical sites and attractions. This year's theme is Public Histories of the Mid-Atlantic: Exploring the Ways We Engage with our Past. From our opening program at the University of Scranton's Harry and Jeanette Weinberg Memorial Library with an exhibit on "Scranton and World War I" to Friday evening's train ride to Steamtown National Historic Site for Keynote Speaker Brenda Barrett followed by an optional Friday the 13th "Scranton After Dark" walking tour, the weekend will be teeming with Pennsylvania history! There is more information available about the panel sessions, plenaries, and other activities in the program overview.
Our Local Arrangements Committee has prepared accommodations at the historic Radisson Lackawanna Station Hotel. The Radisson, located in the heart of downtown, is easily accessible by car and a short distance from the Avoca Airport. Conference and hotel reservations are available online. Members of the Mid-Atlantic Regional Archives Conference are entitled to register for the conference at the PHA member discount rate (nonpresenters).  As a reminder, all presenters are required to be PHA members by the time of the conference (contact Mary Ann with any questions).
Click here to review the minutes from the 2016 members meeting.
We cannot wait to see you there!
Mary Ann Moran Savakinus
Lackawanna Historical Society
Local Arrangements Committee Chair
Silas Chamberlin
Downtown Inc.
Program Committee Chair