Designed to make high-quality scholarship accessible for students, the Pennsylvania History Series has been published since 1948 and now features more than thirty titles that advance the mission of the PHA by engaging with key social, political, and cultural issues in the history of the state and region. Now, an exciting new partnership with Temple University Press will provide the resources, experience, and expertise of a highly regarded academic publisher.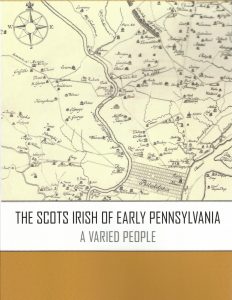 The Scots Irish of Early Pennsylvania: A Varied People
The Scots Irish were one of early Pennsylvania's largest non-English immigrant groups. They were stereotyped as frontier ruffians and Indian haters. In The Scots Irish of Early Pennsylvania, historian Judith Ridner insists that this immigrant group was socio-economically diverse. Servants and free people, individuals and families, and political exiles and refugees from Ulster, they not only pioneered new frontier settlements, but also populated the state's cities—Philadelphia and Pittsburgh—and its towns, such as Lancaster, Easton, and Carlisle.
Ridner provides a much-overdue synthesis and reassessment of this immigrant group, tracing a century of Scotch-Irish migration from 1720 to 1820. These men and women brought their version of Ulster to the colonies in their fierce commitments to family, community, entrepreneurship, Presbyterianism, republican politics, and higher education. The settlements they founded across the state, including many farms, businesses, meetinghouses, and colleges, ensured that Pennsylvania would be their cradle in America, and these settlements stand as powerful testaments to their legacy to the state's history and development. 140 pages, 22 halftones and 3 maps.
ISBN 978-1-932304-32-9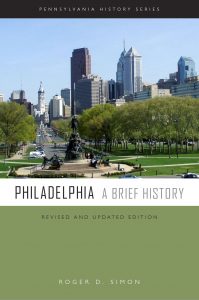 Philadelphia: A Brief History (Revised and Updated Edition)
Philadelphia: A Brief History provides an accessible and readable overview of the history of Philadelphia from its founding by William Penn to the deindustrialization and gentrification of early twenty-first century. The book develops two main themes. First, Philadelphia's history is a story of the efforts to sustain economic prosperity while fulfilling community needs and the continued tension between those priorities. Second, Philadelphia's history was made by its people. Nothing in the city's history has been inevitable. The study devotes considerable attention to the evolving physical development of the city and to the social conditions and class structure of the people, including the role of women and minorities. Thirty illustrations, five maps, and four tables enrich the fully revised and updated edition, which also includes notes and an index. The volume is part of the Pennsylvania History Series published by the Pennsylvania Historical Association in partnership with Temple University Press.
"Simon's wonderfully illustrated and written book should serve as the entry into Philadelphia's history for a variety of audiences. . Indeed, it is hard to imagine a better short history of an American city." – William Pencak, Pennsylvania History
ISBN 978-1-9323042-68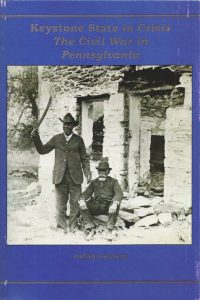 Keystone State in Crisis: Pennsylvania in the Civil War
This book takes you to and beyond the battlefield at Gettysburg, to cities and towns throughout the state where Pennsylvanians fought over the meaning of the Union even as they fought for it. By the time the Civil War began in 1861, white and black Pennsylvanians along the state's southern border-in towns like Sadsbury, Coatesville, and Christiana-had been fighting with slave owners and catchers for a decade. And, more than a year after Lee's Army of Northern Virginia left southcentral Pennsylvania, the town of Chambersburg survived another, even more devastating Confederate invasion. For much longer than four years, Pennsylvanians waged war at home and abroad, to save the Union and to rethink its founding principles. Keystone State in Crisis tells that story.
ISBN 1-932304-41-1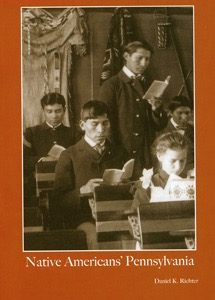 Native Americans' Pennsylvania
In this ambitious history, Daniel K. Richter recounts the story of Native Americans in the Keystone State. Recognizing that Native American history does not begin with the arrival of Europeans, and does not end with their relocation or their concentration on reservations, the author pays significant attention to the millennia before contact, as well as to the developments of the nineteenth and twentieth centuries. Well-written, carefully researched, and infused with concern for telling the Native American story in all its complexity, this volume provides a lively and thought-provoking survey of the history of the original people of Pennsylvania. (2005). 100 pages, illustrations, maps, and suggestions for further reading.
ISBN 1-932304-29-0
Pivotal Pennsylvania: Presidential Politics from FDR to the Twenty-First Century
Each presidential election year, it has become common to hear Pennsylvania described as a "battleground state." How and why did such competitive politics take shape? When did Pennsylvania become so pivotal in electing the president of the United States? In this volume, one of the state's leading political analysts answers these questions by taking readers behind the scenes of convention dramas and onto the campaign trail as national candidates and favorite sons vie for support. This authoritative, richly detailed history by G. Terry Madonna traces the evolution of presidential politics in Pennsylvania from FDR to the twenty-first century. (2008). 126 pages, illustrations, presidential elections table, and suggestions for further reading.
ISBN 1-932304-40-1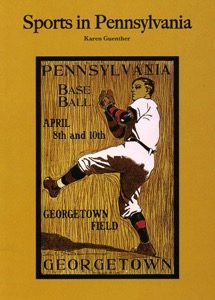 Sports In Pennsylvania
In this wide-ranging history of sports in Pennsylvania, Karen Guenther leads readers from pre-colonial contests among Native American tribes to the big business of modern professional sports. From amateur competition, to colleges, to the pros, readers will relive championship seasons and struggles with defeat – and along the way, follow the important role of sports in the social, cultural, and economic life of the Commonwealth. The volume also provides a guide to Pennsylvania sports in the movies, in museums, and at historic sites, giving readers the opportunity to follow their favorite teams beyond the stadiums and playing fields. This concise, authoritative survey serves as a gateway for general readers who wish to explore the rich variety of sporting life in Pennsylvania. (2007). 117 pages, illustrations, list of national collegiate champions, and suggestions for further reading.
Web Extras: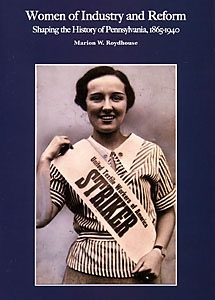 Women of Industry and Reform: Shaping the History of Pennsylvania, 1865-1940
Learn about the experiences of women who worked in factories, walked picket lines, fought for the vote, managed family life, and battled urban conditions during the transformative years between the Civil War and World War II. With great care to preserve women's voices in the telling of their own stories, Marion W. Roydhouse has achieved a narrative that spans the Commonwealth and cuts across class lines. For the first time, general readers have an account of this important period that reflects the wealth of research produced by scholars in recent decades. (2007). 106 pages, illustrations, and suggestions for further reading.
ISBN 1-932304-37-1
Pennsylvania History Classics
The older volumes in the series are shorter booklets that bring the history of Pennsylvania to life for general readers and students. Covering topics such as ethnic groups, industries, religion, and the arts, each title offers engaging stories written by leading Pennsylvania historians.
The Arts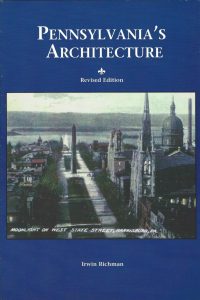 Pennsylvania's Architecture
Pennsylvania's history is reflected in its buildings, from colonial log houses to the shimmering new skyscraper skylines of Pittsburgh and Philadelphia. This booklet provides an introduction to these often-overlooked testaments to the state's past and present. (Revised edition, 1997). 79 pages, illustrations, and suggestions for further reading.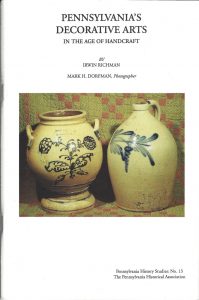 Pennsylvania's Decorative Arts in the Age of Handcraft
What stories might emerge from a close look at a chair, a basket, a candlestick, a redware dish, or a woven coverlet? This booklet delves into material culture to reveal the texture of early Pennsylvania life. (1978). 76 pages, illustrations, and suggestions for further reading.
$7.95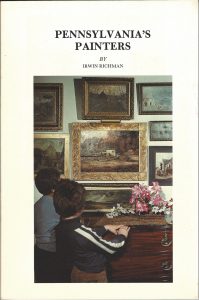 Pennsylvania Painters
Get to know the painters behind Pennsylvania's rich artistic tradition, from Charles Willson Peale and Benjamin West to the impressionist Mary Cassatt and the modernists of the twentieth century. (1983). 83 pages, illustrations (some in color), and suggestions for further reading.
Ethnic Series
Great Debates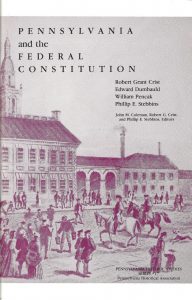 Pennsylvania and the Federal Constitution
Experience the turbulent decades leading to the drafting of the U.S. Constitution, and learn how the controversy of Pennsylvania's own Constitution influenced the nation's frame of government. Essays contributed by William Pencak, Phillip E. Stebbins, and Robert G. Crist of Pennsylvania State University, and Edward Dumbauld, Senior Judge of the U.S. District Court for the Western District of Pennsylvania. (1987). 80 pages, illustrations, complete text of the Constitution and Bill of Rights, and suggestions for further reading.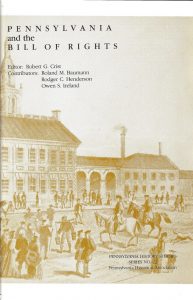 Pennsylvania and the Bill of Rights
Enter into the contentious debates over the ratification of the U.S. Constitution, and learn Pennsylvania's role in shaping the first ten amendments to the document, the Bill of Rights. Essays contributed by Roland Baumann, Oberlin College; Rodger Henderson, Pennsylvania State University; and Owen Ireland, State University of New York, Brockport. (1990). 93 pages, notes, and illustrations.
Industry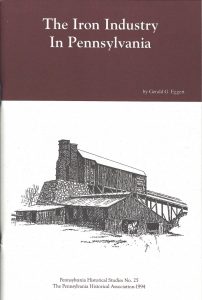 The Iron Industry in Pennsylvania
From the opening of the first iron forge in 1716, the iron industry played a central role in the economies of Pennsylvania and the nation. Learn how iron was made, and follow the story of iron production through the experiences of the industry's pioneers and the iron workers and their families whose labor built Pennsylvania's industrial might. (1994). 98 pages, illustrations, list of historic sites related to the Pennsylvania iron industry, and suggestions for further reading.
$9.95
Movers & Shakers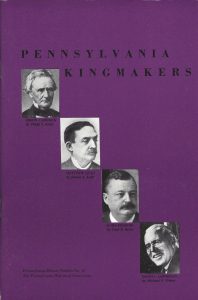 Pennsylvania Kingmakers
Learn the success stories of some of the leading power-brokers who worked behind the scenes of Pennsylvania politics: Matthew Quay (1833-1904); Simon Cameron (1799-1889); Boies Penrose (1860-1921); and David Leo Lawrence (1889-1966). Essays contributed by James A. Kehl, University of Pittsburgh; Philip S. Klein, Pennsylvania State University; Michael P. Weber, Carnegie-Mellon University; and Paul B. Beers, Harrisburg Patriot-News. (1985). 71 pages, illustrations including two political cartoons, and suggestions for further reading.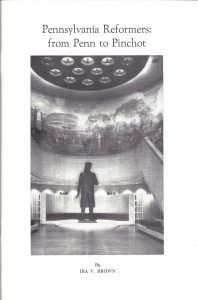 Pennsylvania Reformers: from Penn to Pinchot
Pennsylvanians seek to change the world for the better, from William Penn's "holy experiment" to nineteenth-century feminists, prison reformers, abolitionists, temperance advocates, labor leaders, and urban progressives. (1966). 68 pages, illustrations, and suggestions for further reading.
Submit a Proposal
Please fill out and return our publishing proposal form.
Series Editors
Editorial Board
Karol Weaver, Susquehanna University (2018-2020)
Janet Lindman, Rowan University (2018-2020)
Aaron Cowan, Slippery Rock University (2019-2021)
Kristin O'Brassill-Kulfan, Rutgers University (2019-2021)
Andrew J. B. Fagel, Princeton University (2020-2022)
Donna Rilling, Stony Brook University (2020-2022)