Pencak Award Winner featured on WITF SmartTalk
Shippensburg University senior Frank Grumbine appeared on WITF SmartTalk to discuss his Pencak Award-winning research on Hurricane Agnes. Grumbine's research demonstrates the storm was not merely a natural disaster, but a watershed event in state and national flood management policy.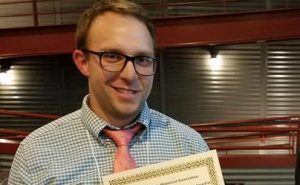 "He spent countless hours researching through original papers and documents at the Pennsylvania State Archives and the State Library of Pennsylvania. This was more than a great paper—it was an important piece of original historical and policy scholarship," explained his mentor, Dr. Steven Burg, PHA member and professor of history at Shippensburg University.