Nominations for the 2018 Pencak Student Paper Prize Now Open
The Pennsylvania Historical Association is pleased to announce that nominations are now open for the 2018 William Pencak Award for the best undergraduate research paper about Pennsylvania and/or mid-Atlantic history.
The award, named for Bill Pencak (1951-2013), a former editor of Pennsylvania History and a prolific scholar and much-loved Penn State University history professor, is designed to honor the year's best written undergraduate paper in history.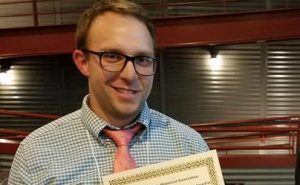 The Pencak Award includes a certificate from the Pennsylvania Historical Association for high achievement in Pennsylvania and mid-Atlantic history, a cash award of $150, and an opportunity for publication on the Pennsylvania Historical Association's website or its journal, Pennsylvania History: A Journal of Mid-Atlantic Studies. Award recipients are encouraged to attend the Association's annual conference in the fall to speak about their scholarship. Click here to download the nomination form.