New Title in Pennsylvania History Series
In her concise history Slavery and Abolition in Pennsylvania, Beverly Tomek corrects the long-held notion that slavery in the North was "not so bad" as, or somehow "more humane" than, in the South due to the presence of abolitionists. While the Quaker presence focused on moral and practical opposition to bondage, slavery was ubiquitous. Nevertheless, Pennsylvania was the first state to pass an abolition law in the United States. Slavery and Abolition in Pennsylvania traces this movement from its beginning to the years immediately following the American Civil War. Discussions of the complexities of the state's antislavery movement illustrate how different groups of Pennsylvanians followed different paths in an effort to achieve their goal. Tomek also examines the backlash abolitionists and Black Americans faced. In addition, she considers the civil rights movement from the period of state reconstruction through the national reconstruction that occurred after the Civil War.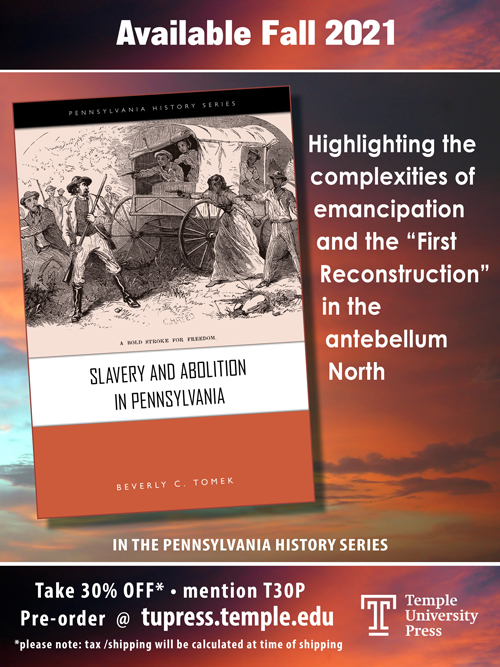 While the past few decades have shed light on enslavement and slavery in the South, much of the story of northern slavery remains hidden. Slavery and Abolition in Pennsylvania tells the full and inclusive story of this history, bringing the realities of slavery, abolition, and Pennsylvania's attempt to reconstruct its post-emancipation society.
Slavery and Abolition in Pennsylvania is published by Temple University Press in association with the Pennsylvania Historical Association.
Copies are available for preorder at the Temple University Press website. Please use the code T30P at check-out for a 30% discount.
---
BEVERLY C. TOMEK is Associate Professor of History and Associate Provost for Curriculum and Student Achievement at the University of Houston-Victoria. She is the author of Colonization and Its Discontents: Emancipation, Emigration, and Antislavery in Antebellum Pennsylvania and Pennsylvania Hall: A "Legal Lynching" in the Shadow of the Liberty Bell, as well as the coeditor of New Directions in the Study of African American Recolonization.