As you plan to join our Annual Meeting from 13-15 October 2022, we encourage you to book your stay at the Genetti Hotel in downtown Williamsport. Mention "PHA" for the discounted rate of $95.00 a night plus tax. The rate will be held for bookings through the date of the conference, as long as rooms remain available.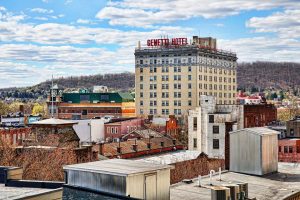 The Genetti Hotel
200 W. Fourth Street
Williamsport, PA 17701
570-326-6600
We encourage you to book soon! Our conference falls near the peak of the autumn colors. The hotel offers free, well-lighted parking on site for all size vehicles. Other amenities include an outdoor swimming pool, fitness center, business center, and self-service laundry facilities.