Pennsylvania History Presents…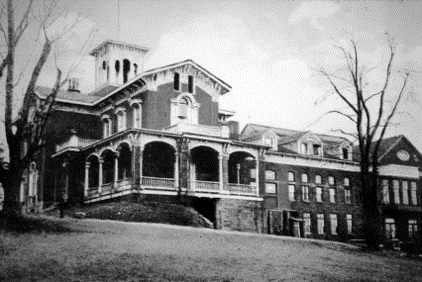 "Pennsylvania History Presents" is an online feature of the Pennsylvania Historical Association's (PHA) website. Begun in 2019, we offer for free public access one article from the current issue of its quarterly award-winning journal, Pennsylvania History: A Journal of Mid-Atlantic Studies. The article is chosen by the journal's editor, and often connects to current events in Pennsylvania and American history. The initiative helps to meet the PHA mission of understanding how the past informs the present helps us shape a better future.
For the Spring 2020 issue, we are making available Samuel J. Richards' article "A Forgotten Muhlenberg School: Trinity Hall in Washington, Pennsylvania."
Abstract: Trinity High School is an unusual name for a public school. Located in Washington County, Pennsylvania, it is a lasting reminder of Trinity Hall, a largely forgotten Episcopalian boys' school that operated between 1879 and 1906. Today Trinity Hall tends to be overlooked by scholars studying Philadelphia-born priest educator William Augustus Muhlenberg. Instead, examinations of Muhlenberg's influence tend to focus on the five New England schools known collectively as St. Grottlesex. Rediscovering Trinity Hall offers historians an opportunity to correct errors in local tradition, examine ways Muhlenberg's approach was adapted over time, and evaluate ways Trinity Hall helped southwestern Pennsylvanians, like Carnegie and Heinz, move from regional to cosmopolitan elite. Finally, it provides a second church school example from the Allegheny Mountains to complement studies of St. James School near Hagerstown, Maryland.